Systems Integration Solutions is a Lithuania-based company specializing in blockchain technical solutions in information technology.
Their team is part of the eSSIF-Lab project and participated in Completing the Framework Open Call, which has helped them to develop their open-source SSI solution.
We've had the pleasure of interviewing Deividas Umbrasas, project manager at Systems Integration Solutions where he's leading a team to build an interoperable, decentralized self-sovereign identity framework.
In this interview, he explained to us what Systems Integration Solutions is about, what are their goals for the middle and long time and give us a piece of advice about what other companies like his should do to get a public funding opportunity.
1. Introduce yourself and your company, and explain what makes you different.
First and foremost, Systems Integration Solutions would like to thank eSSIF-Lab for the invitation to the interview; it was an incredible journey in which we had to overcome many challenges in order to bring our self-sovereign – decentralized identity product package CorpoSign DID to fruition. I would like to express my gratitude to our amazing team, our CEO Rišardas Bedulskis, our lead software developer Dainius Preimantas, and our application developer Augis Bražiūnas, without them it would never have happened.
To return to the subject at hand, my name is Deividas Umbrasas, and I work as a project manager at Systems Integration Solutions, LLC, a Lithuania-based company specializing in blockchain technical solutions in information technology. I have worn several hats in my career, but blockchain technology sparked my attention in 2017. It all started with trading cryptocurrencies, which inspired my curiosity in blockchain technology, and now I am leading a team to build an interoperable, decentralized self-sovereign identity framework on European Blockchain Service Infrastructure.
At Systems Integration Solutions, we are working with European Blockchain Services Infrastructure (EBSI) to create a Self-Sovereign identity and European Identification Framework with the product CorpoSign DID. Being the first one to launch an EBSI node in Lithuania and one of the first in the EU to be fully conformant with EBSI, W3C, and the first to offer Self-Issued OpenID v2 – CorpoSign DID main advantage lies in the streamlined process of simultaneous login, authentication, and KYC (know your customer) using trust anchor's power of attorney verifiable credentials.
2. What services or products do you offer?
Everything began with the development of an open-source SSI solution, made possible by eSSIF-Lab CFOC funding. We started in the e-Government domain by enabling government and business entities to participate in the cross-border logistics ecosystem, by authorizing their representatives to conduct relevant acts on their behalf, using an ecosystem-specific scheme (business or government power of attorney).
As there was a clear need for new authorization methods, we have implemented them into our eCMR (https://sis.lt/projects/diginno-proto). By scanning a QR code with a mobile application, a user can verify or authorize data on behalf of the organization, or just log in. But as we neared completion of this project, we realized that we had produced the majority of tools and components necessary to launch our Software as a Service or White label offerings.
Currently, our novel technology enables CorpoSign users to exchange any sort of data and decide how their data is used and processed, without the need for any login credentials. CorpoSign's decentralized identity makes it a self-sovereign, privacy-protecting, and user-friendly application that anybody can use and benefit from, to easily communicate any form of data utilizing interoperable DID and SSI solutions; we specialize in Natural, Legal Persons IDs & Diplomas.
Shortly, we offer the issuance of Verifiable Credentials (VCs) via our custom client panels or APIs, the storage of VCs in our mobile application wallet, and the sharing and verification of Verifiable Presentations (VP) via custom or universal verifiers and SDKs. We can also launch public/private blockchains with white-label solutions if needed.
Please view our brief product demonstration at https://youtu.be/fIo Gdz80K8
3. What milestones have you achieved so far since your project launch?
In just seven months, we have accomplished things we never imagined we would attain. With the assistance of the eSSIF-Lab community, we have finalized our business case and are on the verge of completely commercializing CorpoSign DID as a SaaS or White label service. We are prepared to adapt this technology to provide streamlined data exchange, KYC, authorization, and SDK logins.
Regarding business potential, we have begun discussions with local institutions and schools about adopting the SSI solution for diplomas and student identification cards. In addition, we are in discussion with government entities to implement SSI for natural and legal persons in cross-border solutions. We are already in discussions with our local AML KYC providers to join forces for a better future, as we are continually pondering simpler KYC procedures.
Also, in our eSSIF-Lab CFOC project CorpoSign DID (also known as eSSIF4Logistics), we have released and described the majority of our APIs and infrastructure decisions to contribute to the standardization and global interoperability (https://cutt.ly/sBXsHys), as we are ardent supporters of both W3C and EBSI standards for SSI and DIDs. We take this matter seriously; so, we have also made an envisioned interoperability table with most of the eSSIF-Lab participants.
4. What have you achieved with your idea thanks to the eSSIF_Lab project?
The purpose of the European Self-Sovereign Identity Framework (ESSIF) was to enable individuals to control their digital identities and authenticate securely to government and business websites. We knew we were at the right place at the right time since both of our objectives were to drastically lower the expenses of verification; automate notarization, enhance data integrity and security by integrating digital audit trails, and more.
As previously said, because eSSIF-Lab saw the possibility from the same perspective as we do, they encouraged us to commercialize our contribution to SSI solutions, aided in the development of a detailed business case and increased the exposure of our work. In addition to the financing, consultations, and awareness, the engagement and collaboration with other eSSIF-Lab subgrantees, as well as the consortium's assistance, were the key benefits. We hope to continue on this adventure together.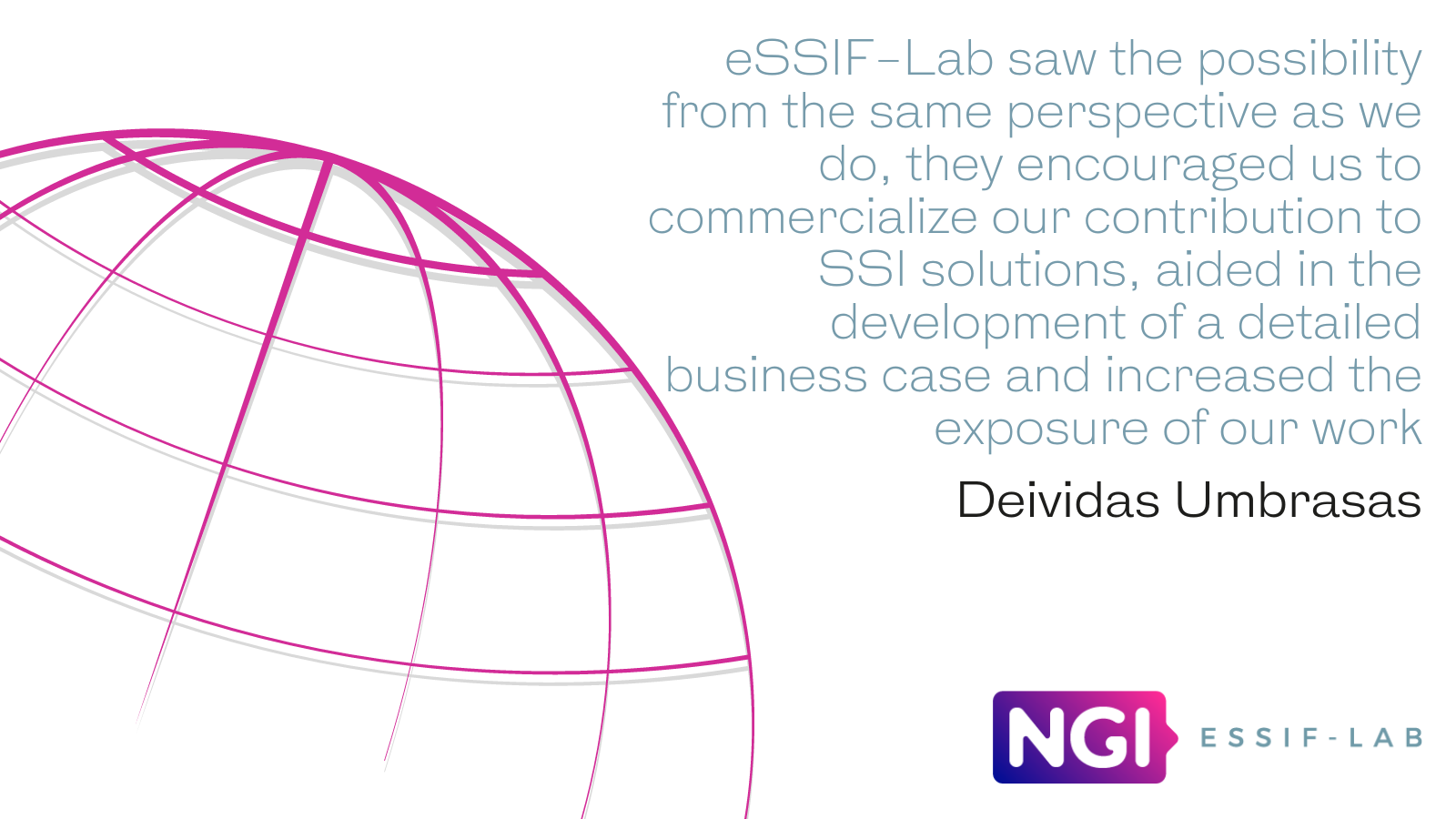 5. What are your goals for the middle/long-time future?
Our mid-term objective is to promote Verifiable credentials and decentralized identities, which will enable governments to easily link natural persons to organizations and migrate to a fully digital world, therefore enhancing both export market access and border security. We anticipate that data-sharing technologies will be globally interoperable in the near future.
Some may wonder why and how this is possible. Verifiable credentials have the unique scalability attribute of issuer and verifier separation. Issuers can go fully digital at any time without requiring other parties to invest in EDI and API connections or register on hubs. At any time, verifiers can continue using paper-based methods or switch to automated data extraction and verification.
Regarding the future, we are huge fans of Unece.org's recently published whitepaper, "eDATA Verifiable Credentials for Cross-Border Trade", which asserts that World Wide Web Consortiums (W3C) DID approaches for data sharing, are the only way to accomplish worldwide interoperability at now. Currently, we are investigating how to completely embrace our technology for all whitepaper-mentioned use cases, such as mitigating compliance concerns, tampered papers, product counterfeits, illicit trade and items, and easing trade financing, while maintaining scalable and user-friendly technology.
We recognize that the majority of this will be a formidable obstacle, but we are prepared to face it in the hopes that we are not the only ones who desire global interoperability.
6. Any piece of advice for those who are looking for public funding?
I am yet to raise a substantial amount of money, so I might be not the one to give this kind of advice. Nobody can answer this question for sure, however, let me try.
Always be searching, learning, and improving, there are opportunities everywhere, you just might be at the wrong place, so do not waver if something went wrong. If your application was rejected – insist to give honest feedback (request to give reviewer's comments), even if it will hurt you.
Hire a company, that knows how to prepare and submit for public funding or investment, and make sure they have a substantial portfolio.
I would also add that you should never stop seeking like-minded people, since we are stronger in numbers, and the most common reason for public funding rejection is a lack of expertise or project execution plan (wrong program, idea, or budget problems).
Lastly, ask whether you may resubmit during the next grant period and how your application might be improved. Hope that helps!